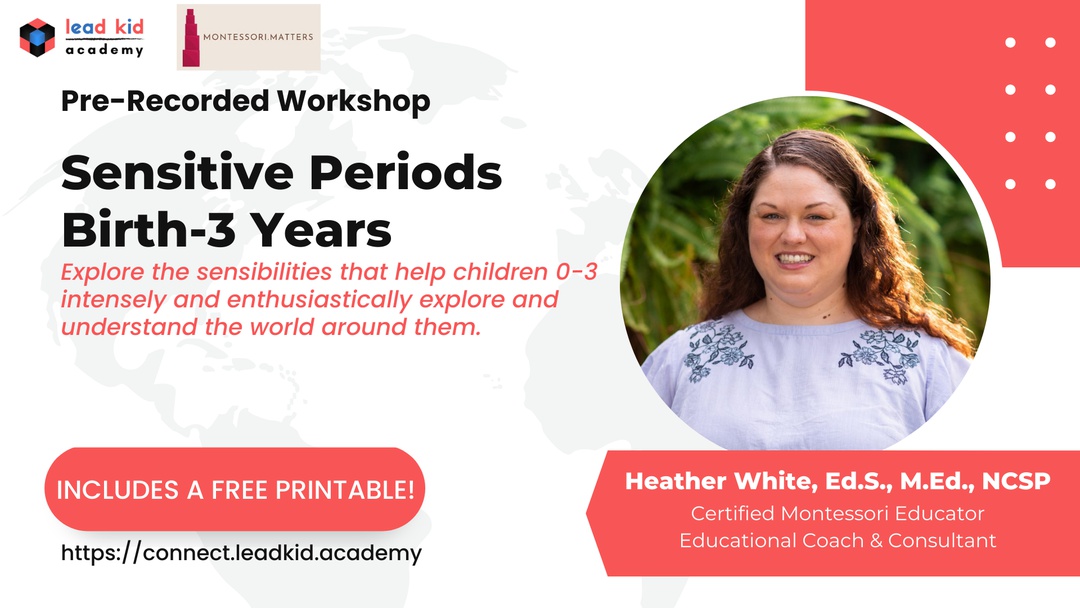 Description
Dr. Maria Montessori described sensitive periods as being "like a beam that lights interiorly." These are specific periods of time when a child has a heightened ability and interest to master a skill or gain new knowledge quickly and with ease. Some, like gross motor development are easily noticeable, while others such as a desire for order and a fascination with small objects may be less obvious. 
Together, we will explore the sensitive periods children from birth to three years of age often experience that enable them to intensely and enthusiastically explore and understand the world around them and will identify ways to observe these sensitive periods and to provide activities that support them. 
Information
| | |
| --- | --- |
| Type | On-demand course |
| Duration | 45 minutes |
| Participants | Parents, Grandparents, Caregivers, Educators, Montessori educators, Homeschoolers |
| Language | English |
Instructor
Heather White, Ed.S., M.Ed., NCSP, is an educational consultant, a content creator and blog writer for several organizations including the American Montessori Society (AMS), the Village Manager and a volunteer admin for Guide & Grow, and a Montessori educator for adult learners through the Center for Guided Montessori Studies (CGMS). Formerly, she was a Montessori guide (Early Childhood 3-6 and Elementary I 6-9) and assistant (Elementary II 9-12), Lower Elementary Coordinator, and Associate Head of School for Lake Mary Montessori Academy for more than 12 years. She has also worked as a Montessori in-home teacher and nanny and has experience as a School Psychologist intern. She is AMS credentialed (Early Childhood, Elementary I), holds her National Certification of School Psychology (NCSP), and has also obtained a Masters in Education with a Concentration in Montessori Studies in addition to her School Psychology degree. Heather looks forward to putting her years of experience and educational knowledge to use by inspiring all of those who cross her path and continuing to positively impact the lives of children through the work of Montessori by way of educators and caregivers. Contact her at hpratt@stetson.edu.
Reviews
This class does not have any reviews yet.